Although a little late in the development of this website dedicated to the memory of the crew of ED627, I have added this page for any further information about them that may be of interest but does not relate to other pages on this site.
__________________
Click on images to enlarge
These photographs were taken when the crew were first reburied in the Durnbach War Cemetery in 1947/9?. The names on the board does not include PO. Fitzgerald. I believe because he was buried in his own grave next to the communal grave of his crew. The headstones on the crew's graves are laid in alphabetical order and not necessarily where their bodies are laid.
Medals
The photo shows the three medals that all of the crew of Lancaster ED627 are entitled too.
They are, left to right....
The Air Crew Europe Star
The War Medal
The 1939 - 1945 Star
PO. Arthur Marcus Fitzgerald
Here are some other documents and information belonging to PO. Fitzgerald.
There is a RAF Christmas card to his parents sent from RAF South Cerney in Gloucester.
An introduction booklet describing the USAAF base at Gunter Field in Alabama, USA for the cadets. This airfield was the home of the Army Airforce Basic flying School and trained many RAF personnel to become pilots probably for many different Squadrons.
Also included are some aircraft recognition documents of American aircraft along with a Graduating card from Army Airforce Advanced Flying School at Craig Field and a photo of BT13's flying in formation. The BT13's were probably the aircraft that the student pilot's learnt to fly on.
These documents were brought back from the USA by Arthur.
Christmas Card
Front and rear covers inside
Recognition documents
BT 13's North American BC-1 North American AT6a
Fleetwings BT12 Republic Guardsman
Gunter Field Introduction Booklet
front cover Inside front page 1 page 2 page 3
page 4 page 5 page 6 page 7 page 8
page 9 page 10 page 11 page 12 page 13
page 14 page 15 page 16 page 17 page 18
page 19 page 20 page 21 page 22 page 23
page 24 page 25 page 26 page 27 page 28
page 29 page 30 inside rear rear cover
This is a card announcing the graduation of Class 42-H which included Arthur Fitzgerald on September 5, 1942
front/rear inside
Raid on Nuremberg, August 27/28, 1943
The caption below the photo explains it all.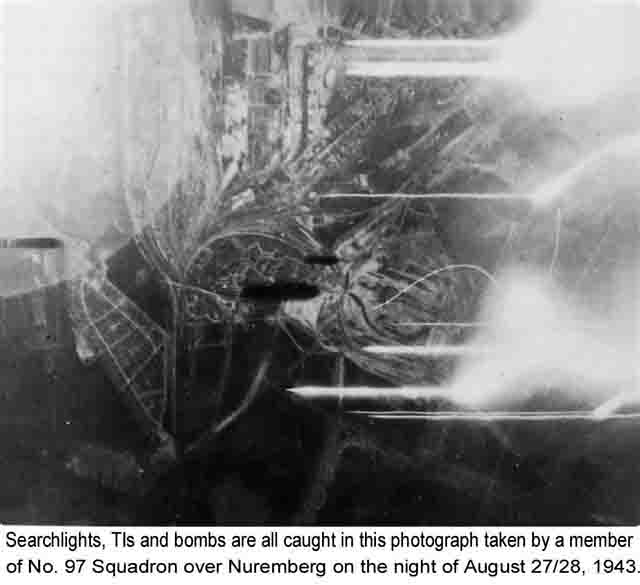 Contact requests
Below are two stories from newspapers that were contacted successfully with requests for help on information about the crew's families.
Sgt. J. Goodwin Sgt. W.W.G. Addison
also an email which was received that enabled contact with the relatives Sgt. H. A. Toomey.
The text of the message explains everything.