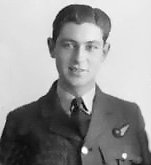 Sgt. Henry Albert Toomey.

The information we have about Sgt. Toomey is he was the son of Henry Valentine and Edith Margaret Toomey of Marble Arch, London.

Sgt. Toomey was the Bomb Aimer of ED627 and was aged 22.

Sgt. Toomey was a married man. His wife's name was Beryl Elsie Toomey (nee Buck). They were married on 14th April 1943
He was the only married man on the crew.
Click below for information and photo's of Henry and Beryl's wedding

Some information and photo's on this page has been supplied by Mrs. Brenda O'Neill, 2nd cousin to Sgt. Toomey
The inscription at the foot of the stone reads....
We'll meet again
But till we do
We'll cherish memories
of you. Devoted mother.
________________
Below are two letters that were sent to Henry's wife Beryl informing her that her husband had been kiled and the other telling her husbands body had been exhumed along with the rest of the crew of ED627 and reburied in the Durnbach War Cemetery.
Below are two photograph's of Henry Valentine Toomey's grave, father of Sgt. Henry Albert Toomey. On the headstone there is a memorial to Sgt. Toomey. The inscription is difficult to read but there are two mistakes in the memorial.
The first is that it gives the date of death of Sgt. Toomey as August 26, 1943 not August 28, 1943 and the second one is that it calls the cemetery that he is buried in Nurnbach, not Durnbach.
click on images
The inscription on the headstone reads.....
In Loving Memory of My dear husband HENRY VALENTINE TOOMEY, Died May 7th, 1946 Aged 56years.
Also his only son HENRY ALBERT TOOMEY, Sergeant R.A.F. Killed on Active Service, 26th August, 1943 in His 22nd year, Interred British Military Cemetery Bad Tolz, Nurnbach, Germany
LET YOUR :LIGHT SHINE BEFORE MEN THAT THEY MAY SEE YOUR GOODWORKS