Home
Sgt. William Walter George Addison

Sgt. John Goodwin RAF(VR)

John Goodwin was born on 28 August 1922, the only son of John and Alice-Lilian Goodwin of Flackwell Heath in Buckinghamshire. John had two elder sisters, Kathleen and Phyllis and one younger sister Elizabeth (Bet).

When the war started he decided that he wanted to fly with the RAF. He passed an Air Crew Selection Board in November 1941 and was 'recommended for training as a Wireless Operator (Air)'. He joined the RAF on 5 January 1942 and in July 1942 was selected for training as an Air Gunner.


John's training

After he was selected for Air Gunner training, he joined No 7 Air Gunnery School at Stormy Down in Wales on 31 October 1942 where he did his basic air gunners training in a Whitley bomber. He qualified as an Air Gunner on 28 December 1942.

In January 1943 he moved from Stormy Down to No 14 Operational Training Unit at Cottersmore and Saltby and first started flying with Sgt Fitzgerald and other members of the crew in a Wellington Ic.

From here he went on for a week's intensive fighter affiliation training at No 1485 Gunnery Flight at Fulbeck followed by a three weeks at No 1654 Conversion Unit at Wigsley. It is here that Sgt Goodwin and the other members of the members of the crew learned to fly and fight in the Lancaster bomber.

In June 1943 he was posted, with the other members of the crew he had been training with, to No 207 Squadron at RAF Langar near Nottingham.


At the end...

Not including his final operation, John had completed a total of 94hrs daylight and 122hrs night flying. Of these, 78hrs night flying, were on operational sorties over Germany and Italy.

John very much wanted to fly with the RAF as a 'tail-end charlie' and he died doing what he had always wanted to do.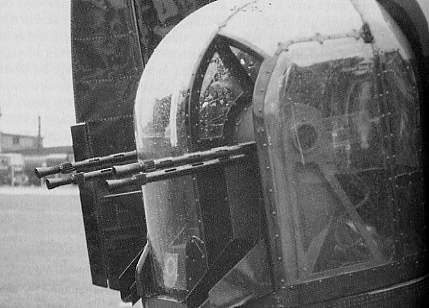 The rear turret of a Lancaster bomber - John Goodwin's place of work !


© Steve Elsden 2009
The inscription at the foot of the stone reads.
Greater Love
Hath No man Than This.
He Laid Down His Life
For His Friends
Requiem for a Rear Gunner

My brief sweet life is over, my eyes no longer see,
No summer walks - no Christmas Trees - no pretty girls for me,
I've got the chop, I've had it, my nightly ops are done
Yet in another hundred years, I'll still be twenty-one

by R W Gilbert

To view Sgt. John Goodwin's Flying Log Book

click here