Hauptmann Ludwig "Luk" Meister
It is with a little sadness that I have now been told that Herr Ludwig Meister passed away on the 26th November 2011, 18 days before his 92nd birthday.
To read a newspaper report of his death and photo's of his final resting place
________________________
On August 28, 1943, Leutnant Ludwig "Luk" Meister shot down Lancaster ED627 (EM-N) in the Hohenberg area of Germany.
This was Ludwig Meister's 16th kill and he went on to shoot down another Lancaster that night near Nürnberg.
By the end of the war he had shot down a total of 39 aircraft, 38 at night and one daytime.
To view letters from Herr Ludwig Meister (2002) containing information about the attack on ED627 dated April and June 2002
For more photo's of Ludwig Meister
Ludwig Meister was born at Rohrmühle, near Erbendorf (Bavaria) on December 14, 1919. He was the son of an Industrialist and after finishing his education he enlisted in the Luftwaffe in 1939.
His flying training began at 4. / Flieger-Ausbildungs-Regiment 51 and he continued his training until he was sent in February 1941 to ßlindflugschule 1 at Brandis and finally to Zerstörerschule at Neubiberg. It was here that he was trained on operational ßf110, twin engine fighters and teamed up with his WOpt/AG Uffz. Hannes Forke who was born in Leipzig.
In June 1941, Ludwig and Hannes were sent to Echteringen airfield, home of E. / NJG 1 training unit of the 1st Nightfighter Wing. After many hours of flying learning the tactics of the Nachtjagd, the crew were transferred in September 1941 to II. / NJG 1 operating out of Stade near Hamburg.
Kills
His first victories were on November 30, 1941 when he shot down three bombers that were attacking Hamburg. Only two of these were verified as a third crashed into the sea. The verified aircraft were a Whitley and a Halifax. In February 1942, II. / NJG 1 and the crew were transferred to St. Truiden (St. Trond) in Belgium. Between February 11th and 13th, Meister and Hannes participated in Operation Donnerkeil, an operation to protect the warships Scharnhorst, Gneisenau and Prinz Eugen in their dash from Brest through the English Channel to Norway.
May 1942, Ludwig and Hannes are transferred from Belgium to join the III. / NJG 4 at Mainz-Finthen. It was here that their next victories came when on August 28/29, 1942 they shot down three aircraft. These were a Wellington at Eich, a Stirlin at Airlenbach and another Wellington at Simmern.
In October 1942, Leutnant Meister and Hannes are again transferred, this time to 1. / NJG 4 based at Laon-Athies in France. Meister has been given the post of Adjutant to Hauptmann Wilhelm Herget, newly appointed Gruppenkommandeur. It is here that he shoots down more aircraft,
October 25, 1942 a Wellington of 75 Squadron at Jenlain which was returning from an operation to Milan,
November 22, 1942 a Lancaster of 57 Squadron which crashed at Tourinnes-la-Grosse in Belgium,
December 21, 1942 a Stirling which crashed into the English Channel and was unidentified.
By the end of 1943, Oberleutnant Ludwig "Luk" Meister had eight victories to his credit.
1943 and Ludwigs next victory is on March 9 and it is a Halifax, believed to be W7851 (TL-Y) of 35 Squadron which crashed between Ors and Catillon-sur-Sambre (Le Cateau). 1. / NJG 4 now move to a new airfield at Florennes in Belgium. It is here that the aircraft of the Gruppe operate above the French and Belgium borders and on April 17, 1943 he claims his 10th victory when he downs a Halifax possibly an aircraft of 408 Squadron between St. Hubert and Nassogne in the Belgium Ardennes. May 30th, he shoots down Stirling EF349 (WP-Y) of 90 Squadron which crashes at Proville, near Cambrai, France and on June 26, 1943 yet another Stirling, this time one of 214 Squadron falls to him, 45 km from Arnhem, Netherlands. In July, Oberleutnant Meister is promoted to Staffelkapitän. On July 4, he shoots down a Halifax of 51 Squadron near Rance in Belgium and on July 14, a Halifax of 102Squadron at Wattignies-la-Victoire.
After these victories 1. / NJG 4 fly's mainly over German soil and Ludwig is now given command of 1. / NJG 4 as the previous Kapitän was wounded in action.
It is over Germany that Ludwig claims a further ten victories, the next being Lancaster ED627 (EM-N) of 207 Squadron on August 28, 1943 and another Lancaster that night near Nürnberg. These are followed on October 4 by three Halifaxes, one near Übereisenbach, one near Trier and the other near Cologne. On November 3, November 23 and December 20, three more Halifaxes are brought down, the first again near Cologne, the second at Grebs and the third at Arloffberg.
1944 and 1. / NJG 34 are back operating over Belgium and France. On January 1, Staffelkapitän Meister is promoted to Hauptmann. January 2, and Ludwig and Hannes claim another four Lancasters on this day. A Lancaster of 156 Squadron at Estinnes-au-Val, Belgium, one of 405 Squadron at Croix near St. Pol and two more which were lost in the English Channel.
January 7, on this day Ludwig claims his first and only daytime victory when he shoots down an American B-17, Flying Fortress which again crashed into the Channel. A few days later and the Gruppe are moved to Werneuchen to help to defend Berlin. Whilst there he shoots down a Lancaster, SW of Liebenwalde and a Halifax near Schönmark.
Another two Halifaxes are downed near the German town of Celle on January 20. It is at this time that the Gruppe are equipped with the new three seater ßF 110 G-4. Ludwig and Hannes are now joined by the third crew member, the gunner FW. Toni Werzinski. This is because that WOpt./AG was now tied up with all the new sophisticated Radar and unable to do his duty as a gunner as well.
The Nachtjagd tactics have also changed, they now start their patrols in their home area and then follow the bomber streams until they have to break off and land at the nearest Luftwaffe base. After refueling they then return to their home base. This explains why some of the victories are far from home such as on February 21, a Lancaster is shot down by Ludwig and his crew at Plittersdorf, near Rastatt. A long way from Florennes. More kills follow on February 24, when three Lancasters, one of 44 Squadron at Bethancourt, one of 61 Squadron, south of Menil-Annelles and a Lancaster of 12 Squadron, ssw of Vouyiers. More Lancaster's are shot down in March, on the 16th an aircraft of 100 Squadron at Bonneuil-les-Eaux and another of 630 Squadron, south of Besme, March 23, an aircraft of 514 Squadron near St. Omer. After shooting down the previous aircraft, Ludwig follows the bomber stream until he has to land his ßf 110 G-4 3C+TJ (WNR 720078) at Hildesheim airfield. Ludwig and Hannes got some some rest, Werzinski who was the mechanic as well as the Air Gunner checked the aircraft out. Lack of rest for Werzinski proved to be almost fatal for the crew.
Ludwig contacts the Flugssicherungzentrale of Brussels to check on the air activity. He is told that there is no hostile aircraft in the vicinity and at 08.52 heads for home. He follows the river Meuse to Florennes, flying low. Werzinski the gunner falls a sleep because of lack of rest the previous night and suddenly they are attacked from behind by an American P-47. Ludwig manages to crash land his ßf110 at Nannine near Namur, but the three men are injured and trapped within the aircraft. They crashed near a railway line where two German members of the Reichsbahn, working near by, saw the crash. They arrive at the crash site quickly and order the Belgian workforce to remove the crew to safety. The ßf 110 exploded and the crew were put on a train and taken to Namer Lazarett. Werzinski was severly wounded when he was shot in the head but survived
The pilot of the P-47 that day appears to have been Cpt. Edward H. Spietsma of the 358 FG/367 FS. This was his only victory claim for the duration of the war.
Ludwig stays some weeks in hospital in Namur and is later tranferred to other hospitals in Germany. When he recovers he returns to Florennes to receive the Ritterkreuz for his victories but he is still not fit for flying duties, so he organises the evacuation of the airfield in August 1944.
At the end of 1944, Ludwig is promoted to Kommandeur and takes command of III./NJG 4. During this time he shoots down his final Lancaster on March 7, 1945 near the town of Kassel.
Ludwig Meister maintained contact with his two crew members. Werzinski had recovered from the bullet wound to the head and Hannes Forke, whilst on a holiday at Almaar on the coast of the Netherlands in the 1960´s, tried to save his daughter and nephew from drowning, but died with them.
My thanks to these two websites and the author´s for permision to use the information and photograph´s contained in this page
Ludwig Meister's Victories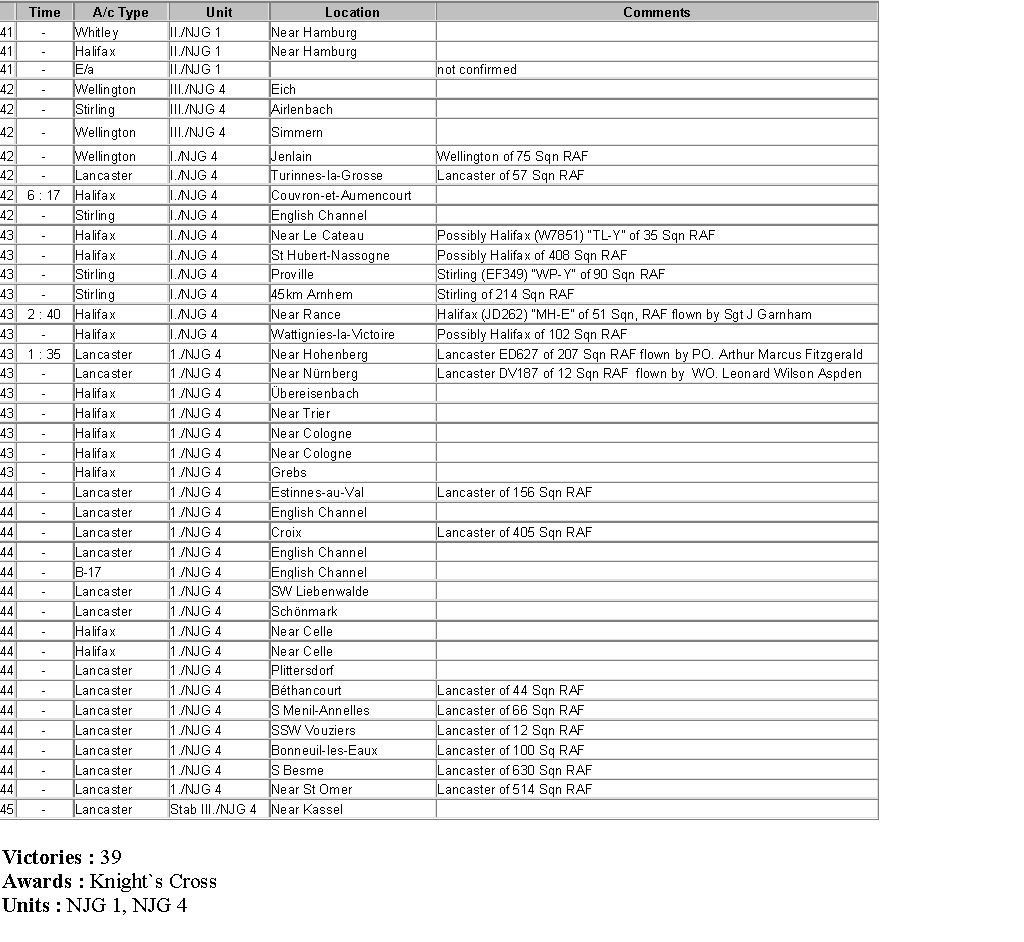 Click on image's.
This is a ME 110G-4 of 7/NJG 4, 1943-1944 similar to the aircraft believed to have been flown by Leutnant Meister when he shot down ED627.