Home
Sgt. William Walter George Addison
Of the 7377 Lancaster build, only 16 examples currently exist in one piece, with just two of these remaining in airworthy condition.

One of the airworthy examples is a Lancaster B.X KB726 owned by the Canadian Warplane Heritage Museum, Hamilton, Ontario, Canada.

The only other airworthy example is Lancaster TB.1 PA474 operated and maintained by the RAF Battle of Britain Memorial Flight based at RAF Coningsby in Lincolnshire.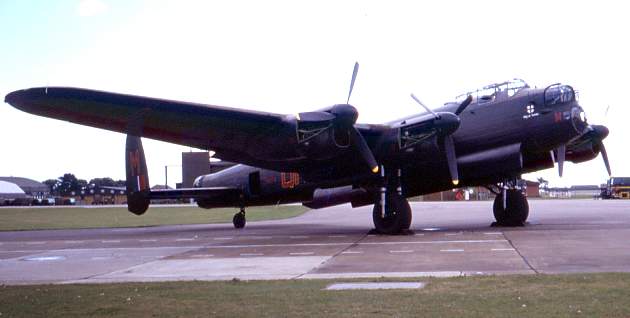 Lancaster PA474 of the Battle of Britain Memorial Flight

PA474 was built by Vickers Armstrong in Chester in mid 1945 and was earmarked for the 'Tiger Force' in the Far East. However, the war with Japan ended before it could take part in any hostilities. After modification at Coventry, including the removal of it's turrets, PA474 was assigned to Photographic Reconnaissance duties with 82 Squadron in East and South Africa.

When PA474 was returned to the United Kingdom it was loaned to Flight Refuelling Ltd at Tarrant Rushton to be used as a pilotless drone. However, before the conversion started, the Air Ministry decided to use a Lincoln aircraft instead and PA474 was transferred to the Royal College of Aeronautics where it was used for trials on the Handley Page Laminar Flow wing. The trial wings were mounted vertically on the upper rear fuselage.

In 1964 it was adopted by the Air Historical Branch (AHB) for future display in the proposed RAF Museum at Hendon and was flown to Wroughton where it was painted in a camouflage paint scheme, though without any squadron markings. During this period PA474 also took part in 2 films, 'Operation Crossbow' and 'The Guns of Navarone'. Later in 1974 it was moved to RAF Henlow in preparation for display at the RAF Museum.

The first unit to be equipped with Lancasters was 44 Squadron and in 1965 the Commanding Officer of this unit, which was now flying Vulcans from RAF Waddington, sought permission from the AHB for PA474 to be transferred to the care of this Squadron. An inspection found that the aircraft was structurally sound and permission was granted for the aircarft to make a single flight from Henlow to Waddington.

At Waddington PA474 was given the markings 'KM-B' commemorating John Nettleton VC and the aircraft he flew on the Augsburg raid on 17 April 1942.

Subsequently PA474 was worked on by a dedicated team of engineers and slowly but surely put back into full flying trim, taking to the air again on 7 November 1967. After the initial test flight, approval was given for the aircraft to make 'occasional flights'. But once it could be seen that the Lancaster performed safely and that there was sufficient infrastructure to support it in an airworthy condition, permission was granted to fly the aircraft on a regular basis.

The aircraft eventually joined the BBMF in November 1973. Restoration work on various parts of the aircraft has continued ever since. A mid-upper turret was discovered in Argentina and was brought back to Britain and fitted to PA474 in 1975. The same year the aircraft was adopted by the City of Lincoln.

Over the years, PA474 has slowly been returned to its 'operational wartime condition' inside and out. During the winter of 1995/96 it received a brand new main spar which will extend its life well into the new millennium.

Kept flying by a dedicated band of aircrew and groundcrew, PA474 is unique in that it is UK's sole airworthy representative of the RAF's four-engined heavy wartime bombers, and as such serves as living memorial to the 55,000 plus Allied airmen of Bomber Command who lost their lives during World War II


To go to the website of the RAF Battle of Britain Memorial Flight - click here

Lincolnshire's Lancaster Association

The Association continues in its unique position as the official public support group for the Battle of Britain Memorial Flight.

It is a registered charity and today has between 4000 and 5000 members world-wide.

Membership currently costs £8.00 per annum.

If you would like to give your support to the Flight and become a member, receiving 2 in-house journals, the annual flying and display programme, the BBMF brochure and a members day with the Flight each year, send a SAE for a membership application form to:


Lincolnshire's Lancaster Association
PO Box 474
LINCOLN
LN5 9ES

Other Surviving Lancasters in the United Kingdom


B.1 R5868 - RAF Museum, Hendon

The oldest surviving Lancaster in the world, the RAF Museum's R5868 has an enviable war record, having flown 137 operational sorties, including 8 trips to Berlin and 16 to the Ruhr. The aircraft actually started life on the Metropolitan Vickers production line in Manchester as an Avro Manchester (part of a batch ordered in 1939), but was completed as a Lancaster.

It was delivered to 83 Squadron at RAF Scampton on 29 June 1942.

It is now housed in the RAF Bomber Command Hall at the RAF Museum as a static exhibit.


To go to the website of the RAF Museum Hendon - click here


B.X KB889 - Imperial War Museum, Duxford

The only example of a Canadian-built B.X in the UK, the Imperial War Museum's Lancaster was one of 430 built by the Victory Aircraft Company at Malton, Ontario, Canada. It rolled off the production line in late 1944 and was flown across the Atlantic to Britain where it joined 428 Squadron (RCAF) in April 1945.

After spending sometime in Britain and back in Canada, in was purchased by the Imperial War Museum in 1986 thanks to the help of the National Heritage Memorial Fund and was moved to Duxford, where a full static restoration was started. After much work the bomber was unveiled in its original 428 Squardon (RCAF) colours on 1 November 1994 and remains to this day one of the major aircraft attractions at Duxford.


To go to the website of the Imperial War Museum, Duxford - click here
Other sites about the Avro Lancaster

For an interactive cutaway drawing of the Lancaster - click here

For the Avro Lancaster - Historic Wings - click here